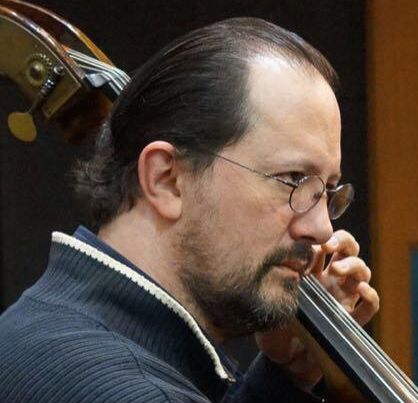 Born in the city of São Paulo, graduated in Languages/Literature (English / Portuguese degree) at Paulista University / USP and, in Music (Degree) at Santos Metropolitan University. He started his musical studies at the age of 12 in electric bass and guitar, developing in the field of popular music, and double bass with Max Ebert Filho (São Paulo School of Music) and Professor Gunter Klaus (Hochschule für Musik und Darstellende Kunst Frankfurt am Main) in 2005.
Among the various orchestral groups, he integrated: Litoral Youth Orchestra, São Paulo Youth Orchestra, Santo André Symphony Orchestra, Experimental Repertory Orchestra, Cultura Radio TV Orchestra (co principal), Fukuda Chamber Orchestra, São José dos Campos Symphony Orchestra (principal), São Pedro Theater Opera House (co principal) and Piracicaba Symphony Orchestra (principal). As a soloist in 2002, acted for the AUM group the work of the composer Edmundo Villani Côrtes.
On several occasions, he joined the São Paulo Symphony Orchestra as a guest, with whom he recorded the Jupyra Opera under the direction of John Neschling, São Paulo University Symphony Orchestra, Mato Grosso State Orchestra (having in 2008 participated in the biggest tour of an orchestra in Brazil, playing in 78 cities, in 22 states, for 3 months) and The Ulster Orchestra (UK).
In 2007 he was awarded by the Legislative Assembly of the State of Mato Grosso the "Moção de Congratulação", due to the brilliant work carried out in front of the orchestra of this state, for the benefit of the music and culture of Mato Grosso.
From 2009, he started to dedicate himself also to the pedagogical area, developing collective rope teaching work in the "Projeto Guri" and double bass tuition at the Baccarelli Institute. He is currently pursuing a master's degree in Music Performance at the Royal Irish Academy of Music under the guidance of Professor Dominic Dudley.